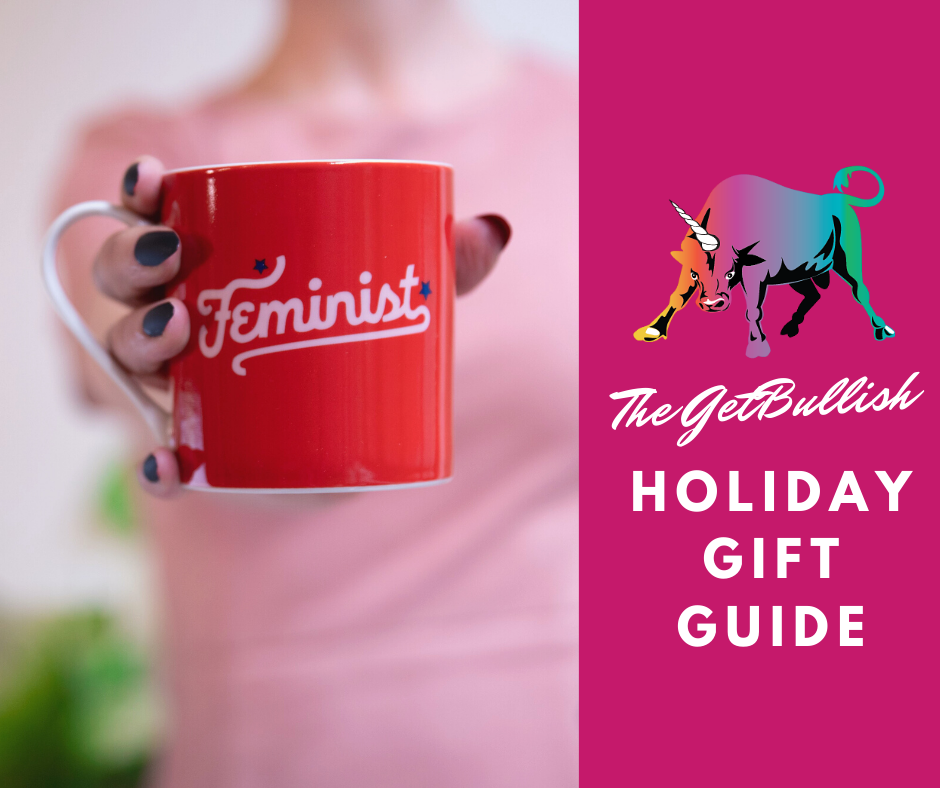 Bullish is a lot of things – it started as a blog, inspired by notes for a still-unwritten book entitled How to Make Money Without Becoming a Republican. Then, it became a conference and a membership society.
But also, people just loved to buy our patriarchy-mocking goods in our online shop, and now our warehouse stocks over 5,000 items! So sure, we have all the "Motherfucking Girl Power" socks, but we also have, like, some cute kitchen stuff for your Aunt Louise. Even stuff for Dad. We've expanded. We contain multitudes. We've got you.
Holiday Ornaments
Make the yuletide gay, and by gay we mean actually gay.
Ceramic Ornaments
Have a Holly Dolly Christmas, to everyone except Jolene.
Fridge Magnets Make Great Stocking Stuffers
I mean, it might be a little weird to be like, here is a tiny Sylvia Plath, but sometimes the holidays are like a bell jar.
Finger Puppet Magnets
Button Magnets
Itsy-bitsy stocking stuffers. Also helpful when trying to add a couple more bucks to juuuust reach that free shipping minimum.
Pens & Pencils
Look, as gifts go, it's hard to go wrong with pens and pencils. Everyone uses them. No one's ever like, oh no, pens, I'm afraid I already have pens. Unlike, say, a gravy boat. You probably only need one of those. Or zero. But pens? Bring 'em on.
Pencils
Pens
Pins & Patches
Pins! Get yourself a jean jacket and start collecting! Or just give these to people. They're easy to mail, easy to transport to holiday gatherings. They're fun, they go on stuff, what more could you want?
Pins
3 Piece Snarky Button Sets
Funny, unisex, monochrome… these are all adjectives. Your gift recipient will now have button options. Also, some of these are about dogs.
Patches
We admit, these are a little bit of a craft project. But people are into them! People who can sew or iron, anyway.
Women's Socks
Socks! They're more or less universal. They make good gifts in the winter. Some of them say "fuck" on them. Most of them don't, in case your Aunt Louise likes cat jokes but not f-bombs.
Crew Socks
Ankle Socks
We just have a lot of socks. DON'T PUSH ME, say the socks.
So Many Keychains
We're broadcasting our Strong Bisexual Energy from as far away as … well, about as far away as we parked.
Mug Life
Mugs. A great gift for cold weather. Everyone likes a hot beverage, right? Coffee, tea, hot chocolate? Everyone appreciates a new mug. Sometimes people are opening their presents like, oh, great, another jewelry tree, where am I going to put this? Now I own an inflatable cactus, WTF mom? No one ever says that about mugs. They just go put the mug in its new home with the other mugs. Sometimes they think of you while imbibing.
Handmade Jewelry for Badass Babes
We work with over forty makers of small batch and handmade goods.
Luxe Living
You fancy bitch, you! Look at you drinking bathtub prosecco in your luxury shower cap.
Witchy Holiday Season
Sometimes people keep saying "the holidays" and you're like, actually, my favorite holiday was in October.
That's just a small tour of some of the items in our shop!
All ready to ship to you from Brooklyn, NY.