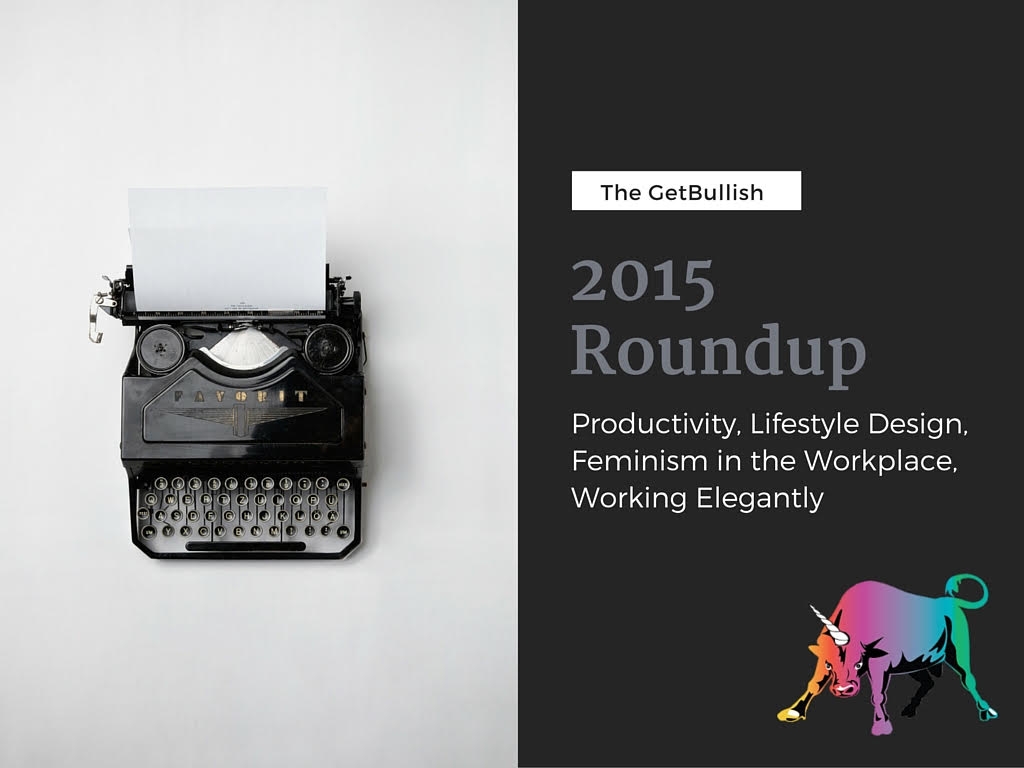 We all know evaluation is best practice, so while preparing for the year ahead, it's important (and fun!) to look back and celebrate the goals achieved, the milestones met and various other successes of the current year.
The third annual Bullish Conference came to NYC! Our year of Bullish webinars was awesome.
Here's the Get Bullish traditional handily-categorized directory of the past year in bullishness.
How to (Effectively) Be a Feminist in the Workplace
How to Brazenly Ask for Favors to Boost Your Career
5 Ways To Be More Ballsy (Even If You Don't Have Balls)
Are You Guilty Of Emotional Tomfoolery? We Are
The True Secret To Success? Quit
6 Ways To Shut Down Sexist Comments At Work
This Champagne-Fueled Shindig Will Make Achieving Your Goals Oh So Much More Fun
3 Stealthy Ways to Make Sure You Have the Upper Hand at Work
Hey Ladies—Here's How to Ignore All the Critics and Use Upspeak to Your Advantage
My Motto: Screw Productivity Tips That Only Make Your Life More Stressful
An Introvert's Guide to Networking
6 Email Templates Every Business Owner Needs
How To Host A Conference – With No Money
6 Ways To Stand Out At A Conference
Your Social Media Strategy – From Facebook To LinkedIn
How To Parent Equally When You Both Work Full-Time
3 Reasons You're Always Late — and How to Fix Them
What to Do When You're Bored at Your Job
How to Nail Your First Day on the Job
5 Ways to Actually Enjoy Saving Money
The Ultimate Guide to Preparing Your Career for a Baby
From Freelancing to Group Projects: How to Get Credit for Your Work
4 Ways to Become a Morning Person
Win The Game That Excites You – On Matching Your Life To Your Strengths
Incompetent Boss? Opportunity For You!
"My Boss Changes The Schedule Last Minute And My Friends Say To Shut Up And Take It"
"My Ex Owes Me $2K And He's Blocked Me On Facebook"
Imposter Syndrome? The One Secret That Will Change The Way You Look At Everyone
Want To Do All The Things? Focus By Defining Your Endgame
When Your Interviewer Says You're Too "Intense And Ambitious"
I've Got A Side Hustle But Am I Thinking Too Small
Caring For Financially Irresponsible Parents
I Like My Job – Do I Really Need A Side Gig?
2 Questions From A B-School Student
How To Protect Yourself If Your Job Isn't Stable
Help, My Housemate Owes Me Money And Won't Talk About It
What To Do About Your Racist Family
How Do I Stay Bullish If I Need A Lot Of Sleep?
How Do You Get Motivated For A Huge, Unimaginable Change? (Like Graduation)
How Do I Determine How Much I Can Charge For My Expertise?
How To Effectively Share Examples Of Your Work
How To Comfortably (And Nicely!) Talk About Money
Is It Okay To Date Someone Who's Good For Your Career?
Escaping The "Golden Handcuffs"
How To Quit Your Job With Class
Side Hustles, Schedules and Setting Boundaries
Is Writing A Book A Good Side Hustle?
"I Feel" That You're A Misogynistic Jackass: A Case Against "I" Statements
How To Turn An Internship Into A Full-Time Job
Help! My Job Experience Isn't "Professional"
My Family Wants Me To Get A Boyfriend
Help! I Didn't Go To A "Good" School
How To Be So "Productive" That You Hate Life And Everyone Hates You
How Not To Tweet Like A Douchebag
What Lean In Gets Wrong: How I Balance a Career, Marriage, and Parenthood